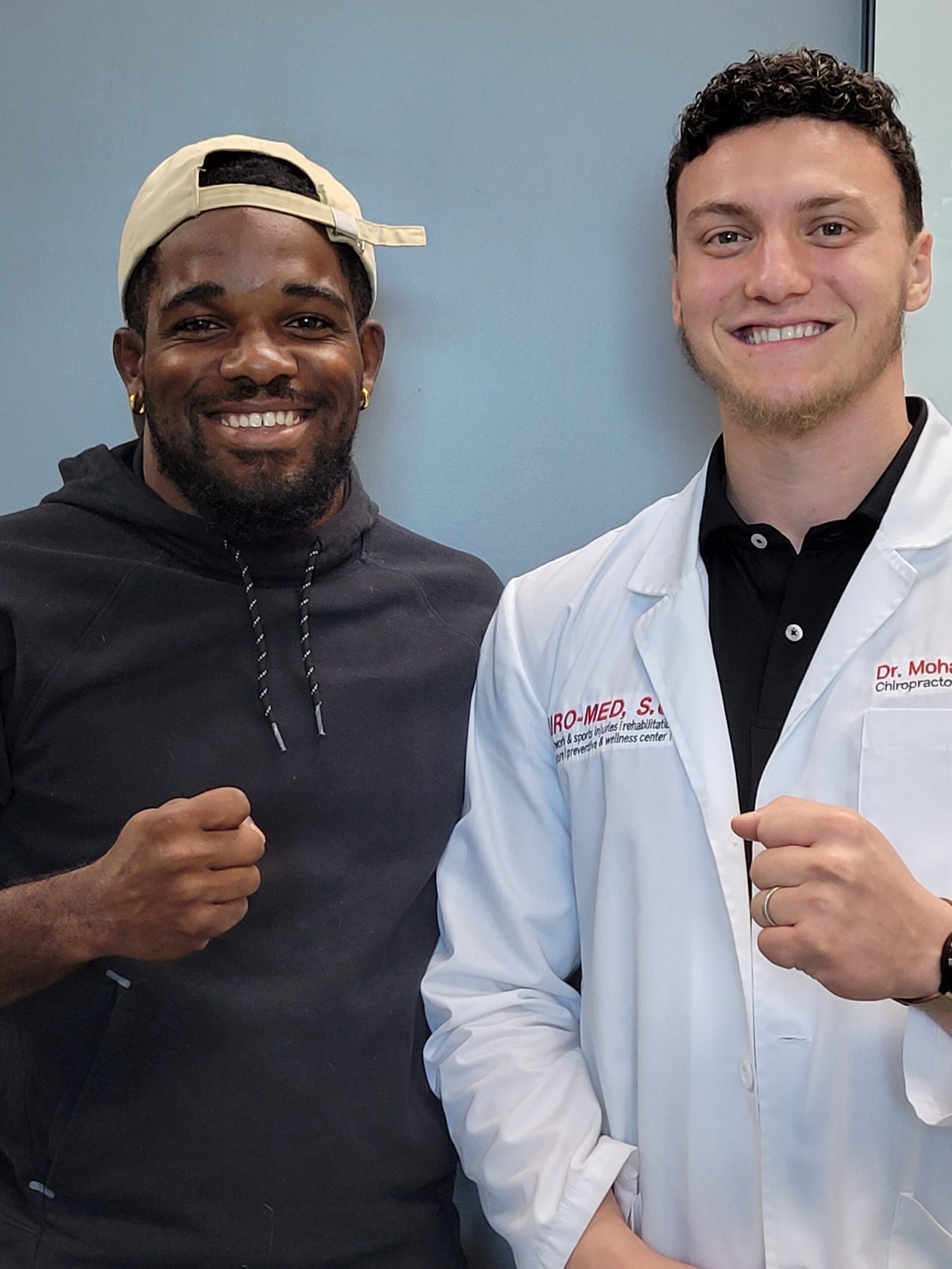 Patient Shares Experience:
Dr. Zraik helped me recover to revive my MMA career
 "Before walking into Chiro-Med, I didn't fully understand that I had a severely strained hamstring that was affecting my everyday life. Working with Dr. Zraik for the past 2 months on my recovery revived my grappling MMA fighter career and I had my first win. Dr. Zraik cut my recovery time from 4 months to 2 months.
I'm a true believer that recovery takes proper rest and a game plan. Chiro-Med is the best game plan in my eyes! In fact, my wife who is pregnant became a patient of Dr. Zraik's, and he is helping her deal with lower back pain from the pregnancy. 
My family and I will continue to seek care at Chiro-Med, and I recommend Dr. Zraik and the staff at Chiro-Med."
 Linzy H., Chiro-Med Patient            
Chiropractic care treats strains and sprains from sports injuries
             Chiropractors are known for their expertise regarding the spine. However, chiropractors are also knowledgeable about treating the body's extremities, including the shoulders, elbows, wrists, hands, hips, knees, ankles, and feet. According to the U.S. Department of Health and Human Services, sprains, strains, knee injuries, and swollen muscles are among the most common sports injuries (1). Strains and sprains are two common conditions that can be helped by chiropractic care. Strains are often caused by repetitive motions from using a specific muscle or tendon. In contrast, sprains are typically caused by twisting or falling and forcing a joint into the wrong position. For example, a sprain could occur if someone jumps and lands on their ankle incorrectly. Although strains and sprains are considered minor injuries, proper treatment and rehabilitation are needed to avoid future complications, such as instability or reoccurring injuries. The recovery time for a strain or sprain depends on the severity and can take anywhere from 1 week up to 4 weeks to heal. Severe injuries that involve micro, partial, or full tears can require a much longer recovery period. When not taken seriously, strains and sprains can worsen over time and cause worsening pain and dysfunction for patients.
Chiropractic care treats strains and sprains from motor vehicle accidents
            Although many individuals correlate strains and sprains mainly with sports-related injuries, they can occur in other ways, too. For example, motor vehicle accidents are another way strains and sprains often occur. Injuries from car accidents are among the most common reasons for a patient to seek chiropractic care. The Spine Research Institute reports that more than 3 million people in the United States suffer from whiplash injuries from car accidents every year (2). Whiplash is another condition that may be helped by chiropractic care, including treatment for neck pain and stiffness, headaches, loss of normal range of motion, tingling or numbness in the arms, and sleep difficulty.
Chiropractic care treats strains and sprains from work injuries
             Active individuals and athletes are more susceptible to sprains and strains due to the greater amount of physical stress placed on the body. Athletes in particular may try to push their physical limits, leading to overexertion that puts them at risk for sprains, strains, fractures, and more. Despite the greater risk among athletes, any person can be at risk of strains and sprains in the face of overexertion, accident, or injury. Workers also can experience strains and sprains.  For example, a person who performs a lot of repetitive motion around the same muscle or joint for their job each day is at a higher risk for a strain. Chiropractic care treats sprains and strains from work injuries, too.
Chiropractic care improves healing and reduces risk of future injuries
            Dealing with a strain or sprain can be frustrating for patients, especially for athletes or those whose daily tasks become disrupted by the injury. Fortunately, chiropractic care helps. Chiropractic care specializes in spinal health and also treats other areas of the body. Chiropractic adjustments can help relieve and eliminate pain caused by a strain or sprain without the use of medications or surgery. The chiropractors at Chiro-Med S.C. specialize in chiropractic adjustments, physical therapy modalities, and rehabilitation exercises. Chiropractic care helps promote healing by reducing pain and improving joint function. A study conducted observed the outcomes of treating ankle sprains with manual ankle adjustments by a chiropractor. The results showed that patients who treated their ankle sprains with chiropractic care had lower pain levels, a greater range of motion, and improved function and stability (3). Ultimately, treating strains and sprains with chiropractic care improves healing and reduces the risk of future injuries.
References   
Loudon, J. K., Reiman, M. P., & Sylvain, J. (2014). The efficacy of manual joint
mobilisation/manipulation in treatment of lateral ankle sprains: a systematic
review. British journal of sports medicine, 48(5), 365–370.
https://doi.org/10.1136/bjsports-2013-092763
U.S. Department of Health & Human Services (HHS). (n.d.). HHS.gov. Retrieved
September 8, 2022, from https://www.hhs.go
Loudon, J. K., Reiman, M. P., & Sylvain, J. (2014). The efficacy of manual joint mobilisation/manipulation in treatment of lateral ankle sprains: a systematic review. British journal of sports medicine

, 

48

(5), 365–370.

https://doi.org/10.1136/bjsports-2013-092763