Are you looking for a walk in chiropractor?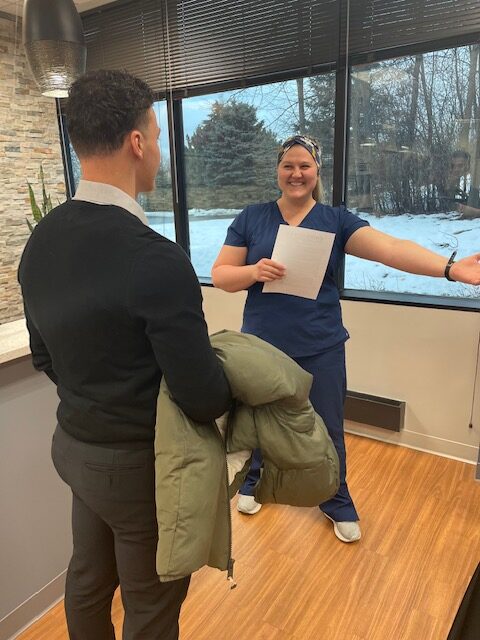 Sarah, one of the Chiropractic Technicians at Chiro-Med S.C., welcomes a walk in chiropractic patient during patient hours.
When you need chiropractic care, the experienced chiropractors and educated chiropractic technicians and staff will provide you with exceptional care.
Are you looking for a walk in chiropractor?
The chiropractors and staff at Chiro-Med S.C. understand that when you need chiropractic care it is important that you have the ability to see one of our chiropractors immediately. Although same day and immediate appointments are available at our chiropractic care clinic, we welcome walk in patients during patient hours.  You do not need to schedule an appointment.
We welcome patients from all areas.
We serve patients throughout Waukesha County, including Delafield, Hartland, Pewaukee, Waukesha, Oconomowoc, Brookfield, Sussex, Dousman, Wales, Eagle, Nashotah, North Prairie, New Berlin, Muskego, Okauchee Lake, Chenequa, Vernon, Merton, and more.  We welcome patients of all ages, including infants, pediatric patients, teenagers, adults, and seniors.  We also provide family chiropractic services, as well as sports and wellness chiropractic.  Our convenient location off of I-94 in the Ridgeview Corporate Center offers you total health chiropractic care with lots of parking and easy access into the building.
We treat patients 5 days a week.
We provide chiropractic treatment and sports and wellness chiropractic 5 days a week on Monday through Friday.  Our patient hours for March are:
Mondays from 10 a.m. to Noon and 2 p.m. to 6 p.m.
Tuesdays from 9 a.m. to 11 a.m.
Wednesdays from 10 a.m. to Noon and 3 p.m. to 6 p.m.
Thursdays from 9 a.m. to 11 a.m.
Fridays from 10 a.m. to 12 p.m. and 2 p.m. to 6 p.m.
You can always check our website for the current patient hours.
Walk in and experience chiropractic care in 6 easy steps.
The first step is when you walk in as a new patient at Chiro-Med.  Upon your arrival at Chiro-Med, we will greet you and have brief patient forms for you to complete. The patient forms provide the chiropractor with general information about yourself and your condition. You can print the form from our website before you arrive, if you would like.
The second step is the evaluation.  Our chiropractor will review your patient information and your chief complaints about why you are seeking chiropractic care. Our chiropractor will review your medical, social, and family history prior to conducting a physical and orthopedic examination and answer your questions during this evaluation.
For the third step, the chiropractor will conduct a brief physical and orthopedic examination, followed by a series of X-rays concerning the area of complaint. The X-rays are required (unless the X-rays are provided to Chiro-Med prior to your appointment) and are essential to diagnose your condition.
Once the examination and diagnostic tests are complete, you will begin Step 4 with your first chiropractic treatment based on the chiropractor's recommendations. This treatment may include physical therapy modalities and chiropractic adjustments.
Prior to leaving, the doctor will provide recommendations about at-home instructions as Step 5 in the process, if needed. These instructions may include ice and/or heat applications, exercises, or avoidance of certain activities and positions.
Lastly, the doctor will formulate an individualized treatment plan based on your specific condition for Step 6. The Front Desk Staff Member will schedule your next visit to follow up with the doctor for best results, if an additional appointment is needed.
Receive a warm welcome when you arrive and exceptional chiropractic care.
At Chiro-Med S.C., we recognize you may not know what to expect when you walk in for chiropractic care.  You can expect a warm welcome from our Front Desk Staff Member and a continued focus on providing you with our 5-star quality care from our highly educated chiropractic technicians and experienced chiropractors.  If you read the Testimonials from patients on our website, you will find that the care we provide is exceptional and meets many patient needs.  Our experienced chiropractors have treated more than 750,000 patients and have been serving the chiropractic care needs of Waukesha County residents for 35 years.  We are honored to provide chiropractic care for our community.